Whether you should or shouldn't wear a helmet is widely debated amongst skiers and snowboarders, with some resorts and terrain parks even making it compulsory, but largely, it remains a personal choice.
With benefits ranging from comfort to keeping your ears warm, to potentially preventing life-threatening head injuries, if you are choosing to wear a helmet or kit your kids out with one the following will help you pick the right one for you.
All our helmets offer a high level of protection and have been rigorously tested and certified to exceed safety standards.
The figures do not lie, statistically, men are twice as likely to suffer from a head injury that women and children. And no it doesn't matter how good a skier you are most head injuries occur when other skiers ski into you.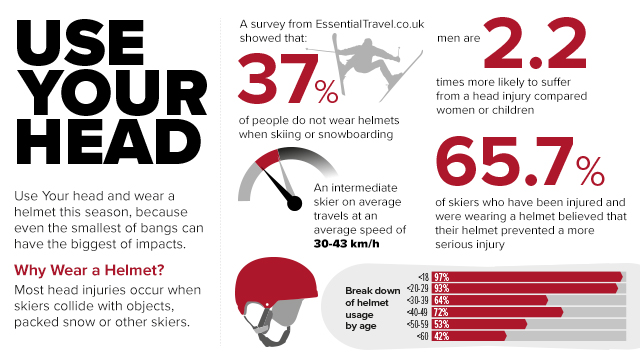 We recommend that all children under 14 years of age wear a helmet when skiing or snowboarding, especially as it's a legal requirement for children to wear one in some resorts and countries. Don't forget to check your resort information beforehand to make sure you are well prepared.
Choosing the right size and fit is vital, otherwise, your helmet is fairly pointless.
Using a soft tape measure, wrap it around your head just above your eyebrows and ears, roughly in the middle of your forehead.
Most helmets are measured in centimetres, so if possible use a soft measuring tap with centimetre increments. If you don't have a soft tape measure, use a piece of string and wrap it around your head and then measure the string.
Ideally, you will want to be in the middle of the measurement given. If you are on the cusp of the measurements, go up a size.
Once you have your helmet, you'll need to check that it fits, put it on, align the front with your eyebrows and pull the strap down until it's comfortable. It should feel snug; a correctly fitting helmet should have no gaps between the lining of the helmet and your head. The back of the helmet should not touch the back of your neck.
Once your helmet is on and strapped up, shake your head around gently;
If the helmet moves or you feel it shaking separately from your head it's too big.
If you're feeling pressure around your head, as if it's being squeezed, or the helmet doesn't fit all the way on it's too small.
You want your helmet to be comfortable enough to wear all day.
Use the above steps to find the right fit for kid's helmets too but be aware younger children may not be able to describe exactly how it feels. Ask whether any spots hurt or are uncomfortable and don't buy a helmet with room to grow; if it's too big, it's unsafe.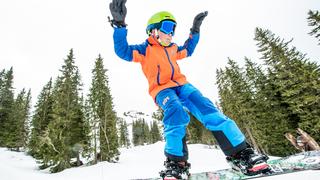 Adjustable fit systems
Most helmets come with adjustable fit systems to ensure the perfect fit for you. The most common of these are:
ADJUSTABLE BOA®
A lightweight and secure dial in the neck area giving you micro-adjustability to ensure the most comfortable and snug fit. The biggest benefit of this system is it is easy to adjust on the slopes with just one hand.
Like the previous system, this offers dialled adjustability, tightening or loosening the helmet's fit, including vertical tuning.
Removable pads are the most common and cheapest fit system, adding or taking away the thickness in the interior of your helmet. This system is ideal for anyone wanting to ski or snowboard with a hat underneath.
A low-profile headband attaches to the inside of your helmet allowing you to fine tune the fit of your helmet by adding or decreasing air at the touch of a button.
Helmet construction
The construction of most skiing and snowboarding helmets means they're designed for a single large impact. If you do suffer an impact that causes the hard foam interior to collapse or crack make sure you replace your helmet as it will no longer be safe. Not all serious impacts are visible from the outside of the helmet so make sure you always check the interior.
In-moulded helmets use a thin, hard plastic outer shell that is moulded to a softer EPS foam liner to absorb shock. This helmet is lightweight and will give you less rebound on impact as the interior collapses.
ABS constructed helmets use a thick, tough ABS plastic shell that is pre-formed and glued onto a pre-moulded hard foam interior and liner to offer good protection at budget-friendly prices.
Softshell helmets are designed for less intense impacts but can withstand more of them using two foam densities; a softer foam against your head and a harder foam against the outer shell. These types of helmets aren't always certified for single large impacts to be sure to check before you buy.
Nearly all helmets will offer some form of open venting system built into the design allowing heat and moisture to escape.
Some manufacturers offer adjustable venting systems giving you the ability to open or close the vents to suit the weather conditions. These systems can be plugs, sliding mechanisms, or push buttons and are down to personal preference.
There aren't many additional features to skiing and snowboarding helmets but some manufacturers offer goggle straps or clips, pockets and even speakers built into the ear padding.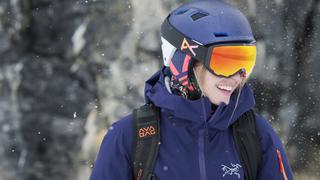 EAR PADS
Ear Pads are a great feature to keep your ears nice and warm, however it is easy to overheat when in a helmet. Some helmets come with removable ear pads for versatility, as well as a style option.
Moisture wicking fabrics are sometimes used in helmets to help prevent odours. This removable and washable fabric increases the comfort of the helmet, by wicking the sweat away from the skin.
Wired audio systems can be found in a handful of helmets. The system in integrated into the helmets ear pads, avoiding the annoying and unpleasant pressure from headphones under earpads.
PEAK
A peak styled helmet features a solid brim, similar to a cap. The brim is used to prevent snow and sun from getting to your face.
STRAPS
The chin strap on your helmet should be comfortable, as well as easy to get on and off. Some manufactures have incorporated magnetic clips to help with adjustments when wearing gloves, it is import to pick the clip style you are most comfortable with.
Helmet styles
Full shell helmets provide full coverage and help block out the harsh weather conditions. Most frequently kid's helmets, racers, and halfpipe riders will wear full shell helmets.
HALF SHELL
These are the most popular style of helmet, often incorporating soft ear padding for protection and comfort.
FULL FACE
Full face helmets are more skin to motorcycle helmets, constructed as a solid one-piece including jaw guard. These offer the most protecting but at a cost to weight and comfort. Most commonly worn by racers or big-mountain skiers.
Safety ratings
Skiing and snowboarding helmets must comply with one of three standard systems:
Common European Norm (CEN or sometimes EN) - this is the European ski helmet standard. CEN 1077 was issued in 1996 which requires helmets to be tested and pass blunt impact protection, sharp and pointed object penetration, chin strap resistance, area of coverage, field of vision and clearance between the head and shell.
The American Society of Testing and Materials (ASTM), all helmets must show that they have reached standard F2040 which requires helmets to pass positional stability (roll off) and strength retention tests.
Snell Memorial Foundation, Snell RS-98 - the most stringent helmet safety standard.